Extracts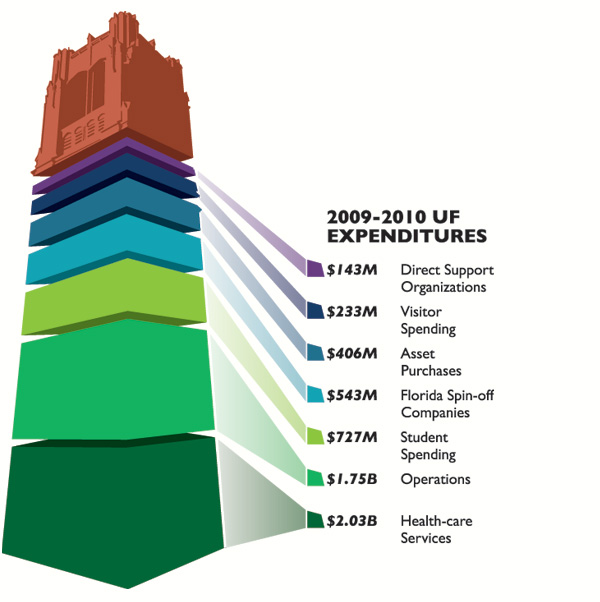 Study: UF Has $8.76 Billion Economic Impact On State
The University of Florida's economic importance in Florida has continued to grow in recent years, thanks to an increase in research grants and rising demand for health care services, according to a new study by UF's Institute of Food and Agricultural Sciences.
The study found that the university's total economic impact on the state for the 2009-2010 fiscal year was $8.76 billion, and total employment impact was more than 100,000 jobs.
UF's economic impact — as large as the state's spectator sports industry that includes professional sports teams and NASCAR — represents the ripple effect of the university's statewide presence with research and education centers throughout Florida, UF physician practices and Shands HealthCare hospitals and programs, and extension offices in all 67 counties.
The economic impact from health-care makes up a large part of the total and is actually larger than UF operations, said Alan Hodges, an extension scientist in the food and resource economics department and the study's lead author. Operations includes money spent on personnel, utilities and supplies.
The economic impact from health-care services provided by Shands HealthCare and UF physician outpatient practices was $2.88 billion, and their expenditures were more than $2 billion. The economic impact of UF operations was $2.34 billion, and its expenditures were $1.75 billion.
"I continue to be astounded by the impacts of Shands and related health-care services,"Hodges said.
The report also examined the impact of spin-off companies that use technology developed at UF, a growing area of importance as the university looks to convert lab results into real-world solutions.
The economic impact of UF spin-off companies, which often involve biological or medical technology, was $1.43 billion, and their total employment impact was more than 8,000 jobs. These companies are located throughout the state.
"The commercialization of university research is fundamental to the broader effort of building an innovation economy in Florida,"UF President Bernie Machen said. "By creating jobs and attracting private development, we are helping turn around an economic crisis that has been particularly difficult on this state."
Employment impact includes the university's direct employment of more than 40,000 full- and part-time jobs as well as more than 64,000 additional jobs created through spending by UF and its related organizations.
There were more than 4.7 million visitors to UF in fiscal year 2009-2010, and they spent about $232.7 million on goods and services. Revenue for the university was more than $4.27 billion, and expenditures were more than $5.83 billion.
UF received $593 million in state appropriations in fiscal year 2009-2010 and gave the state a nearly $15 return on every dollar it invested in the university. By comparison, UF's state appropriation in 2005-2006 was $665 million.
The study can be found online at www.fred.ifas.ufl.edu/economic-impact-analysis/publications.shtml