Angels and Wild Things
The Archetypal Poetics of Maurice Sendak
John Cech
Pennsylvania State University Press
``John Cech has written an extremely valuable and critically important bok which is both thoughtful and timely. Given the place of Sendak in children's literature, Cech's work will become a standard work of criticism in the field.''
Jan Susina, Illinois State University
Over the course of more than 80 books that he has written and illustrated in a career that has spanned four decades, Maurice Sendak has become the most influential and, at times, the most controversial creator of works for children.
Each of the books in his trilogy --- Where the Wild Things Are, In the Night Kitchen and Outside Over There --- has been precedent-setting, dramatically expanding the boundaries of subject matter and images that have been conventionally accepted in books for younger children.
Sendak has been called the Picasso of children's books, a cultural hero and one of the most powerful men in the United States because of his ability to affect the fantasy lives of millions of children.
Angels and Wild Things examines the unique contributions of Sendak to the literature of childhood. It is the first comprehensive reading of Sendak's key works that considers the symbolic child who has appeared and developed in Sendak's books and remains at the center of his vision.
By fusing biographical, historical, cultural and literary materials with the insights of depth psychology and archetypal theory, this study traces the evolution of Sendak's works --- from its first, bold steps in the 1950s, to its liberating breakthroughs of the 1960s and 1970s, to the rich complexity of his most recent books.
Although touching on many of the works that Sendak has been involved with, John Cech concentrates on those works over which he has had complete artistic control. It is in these books that we can see most clearly the poesis of Sendak's art, the alchemy of his creative process that has woven together the remembrances of his own things past, the spirit of his times, the history of children's literature and Sendak's animating concern with the archetypal figure of the child --- a symbol of creative potential, emotional vitality and spiritual renewal.
Angels and Wild Things documents the major role that Sendak has played in helping to develop a literature of fantasy for young children, one that could explore the ``inside,'' the emotional, imaginative terrain of a child's experience.
Jacket illustration: ``The Baby by the Window,'' from The Posters of Maurice Sendak. Copyright 1986 Maurice Sendak. Reprinted by permission of Harmony Books, a division of Crown Publishers, Inc.

---
John Cech is professor of English at the University of Florida, editor of American Writers for Children, 1900-1960, volume 22 in the Dictionary of Literary Biography series and a past president of the Children's Literature Association.
---
Religion and American Culture
David G. Hackett
Routledge
``... communicates a strong sense of the religious diversity of the American past.''
Nancy F. Cott, Yale University
``... a rich feast of little-known American religious delicacies ...''
Nancy Ammerman, Hartford Seminary
Religion and American Culture challenges American religion's traditional emphasis on older European-American, male, middle-class, northeastern, Protestant denominational narratives concerned primarily with churches and theology.
Breaking through the field with multicultural tales of Native Americans, African Americans, Mormons, Masons, Pentecostals, ethnic Catholics, sunbelt Jews and followers of Asian religions and Haitian Voodoo, that cut across boundaries of gender, religion and region, David Hackett's anthology offers an illuminating overview of the most exciting work currently underway in this rapidly changing field.
By examining what has been traditionally excluded from the canon of religious studies, Religion and American Culture promises to be a landmark in its field and out of it.

---
David G. Hackett is associate professor of religion at the University of Florida.
---
Edisto Revisited
Padgett Powell
Henry Holt and Company
``When asked for a list of the best American writers of the younger generation, I invariably put the name of Padgett Powell at the top.''
Saul Bellow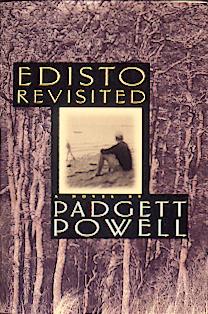 Padgett Powell's fourth work of fiction picks up several years after his first left off, on a strip of coast in the low country of South Carolina, sometime home to Simons Manigault.
Simons is now out of college and trying to forestall the career expected of his ebulliently conventional father. His mother, the hard-drinking literary doctor, favors otherwise and quietly engineers the opening of other avenues to her son. One of these is scandalous.
We meet again Powell's distinctive supporting case: the longtime caretaker, Athenia; Jake, the solid bartender of Simons' childhood hangout, the Baby Grand; the displaced, confused gentry; and the mysterious Taurus, whose lack of presumption marks Simons as both boy and man. A significant newcomer is Simons' cousin, Patricia Hod, depicted with the narrator's usual combination of sardonic humor and dead seriousness.
The late Donald Barthelme said of Edisto, ``The book is subtle, daring and brilliant''; Walker Percy called it ``a truly remarkable first novel, as narrative and in its extraordinary use of language.'' Edisto Revisited is both a return and an advance, a visit and a departure.

---
Padgett Powell is professor of English at the University of Florida.
---
Indian Art of Ancient Florida
Barbara A. Purdy
Photographs by Roy C. Craven, Jr.
University Press of Florida
``A superb book --- and one that is long overdue ... A fine sampling of a unique native American artistic heritage is laid out before you, in text and in pictures, in this exciting book.''
Gordon R. Willey, Peabody Museum,
Harvard University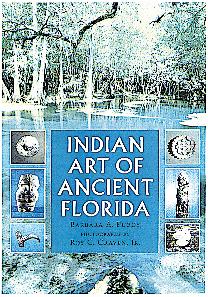 For thousands of years, the Indians of Florida created exquisite objects from the natural materials available to them --- wood, bone, stone, clay and shell. This stunning full-color book, the first devoted exclusively to the artistic achievements of the Florida aborigines, describes and pictures 116 of these masterpieces.
A brief history of the consequences of European infiltration and later investigations by explorers and archaeologists sets the stage for consideration of the works themselves. They date from the Paleoindian period (ca. 9500-8000 B.C.) to the mid-16th century and include utilitarian creations, instruments of personal adornment and magic, and objects indicating status, paying homage to ancestors, or aiding the dead in their journey into the next world.
Because European explorers took little notice of the adornment of the Florida natives and the people themselves did not survive, no enduring artistic traditions prevail from this early period. This collection, a record of the quality and beauty of native Florida art, includes representative objects in all media used and from all cultural periods, geographic areas and environmental settings in which the pieces functioned. Published with support from the state Division of Historic Resources.

---
Barbara A. Purdy is professor emerita in the Department of Anthropology at the University of Florida, curator emerita in archaeology at the Florida Museum of Natural History and author of How to Do Archaeology the Right Way, The Art and Archaeology of Florida's Wetlands and several other books.
Roy C. Craven, Jr., who died in 1996, was professor of art emeritus and founding director of the University Gallery at the University of Florida and author of Ceremonial Centers of the Maya and A Concise History of Indian Art.
---
More Florida Stories
Kevin McCarthy, Editor
Illustrations by Larry Leshan
University Press of Florida
``I have read all of these stories and there is not a bad one in the bunch. In a collection of this quality, perhaps, I should not single out one story for praise, but Padgett Powell's story nails it right to the wall. I will keep this collection by my bedside and read from it, more or less, each night. It is that good.''
Harry Crews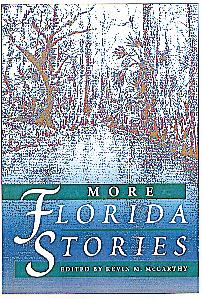 This companion volume to the popular Florida Stories offers readers another sampling from the rich heritage of Florida short fiction. The collection ranges across a gallery of original characters and 150 years of the state's history and culture.
Selections in this volume highlight distinctively Floridian settings and experiences, from W. B.Thompson's report of the Indian assault on the Cape Florida Lighthouse during the Second Seminole War to Padgett Pwell's tale of the backroads personalities and attractions of present-day Florida.
Among the early pieces are stories by Harriet Beecher Stowe on race and justice in 1870s Mandarin and by notorious dime novelist Ned Buntline about a cruel prank played in an orange grove. Alongside these are tales of close calls at sea and the death of a young violinist enchanted by swamps.
From the early part of the 20th century come tales of panthers, wild birds in the Everglades, north Florida revival meetings, racial hatred in the '30s, and the 1928 hurricane on Lake Okeechobee. Later pieces capture life at Camp Blanding, a trip along the Ichetucknee River, an alligator attack on a primordial dark pond somewhere on the Gulf Coast.
In his introduction, Kevin McCarthy discusses the role of place in Florida literature and the distinguishing characteristics of a ``Florida writer.'' Each selection is introduced with background discussion about the author and the story and a brief explanation of historical references. A selected bibliography of each author's works is included.
Contributors: Wyatt Blassingame, Ned Buntline, James Trammell Cox, Lawrence Dorr, Marjory Stoneman Douglas, Rubylea Hall, Stetson Kennedy, Ernest Lyons, Kirk Munroe, Padgett Powell, Jack Rudloe, Harriet Beecher Stowe, John W. B. Thompson, Constance Fenimore Woolson.

---
Kevin McCarthy, professor of English and Florida studies at the University of Florida, is the author or editor of 13 books, including Florida Stories, Nine Florida Stories by Marjory Stoneman Douglas and Florida Lighthouses.
---
Ordering information for University Press of Florida books:
University Press of Florida
15 NW 15th Street
Gainesville, FL 32611-2079
Phone: (352) 392-1351
Fax: (352) 392-7302.