Doctoral Student Wins National Inventors Contest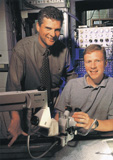 University of Florida doctoral student Jeff Petruska won a prestigious national inventors contest last fall for a device that will help researchers better understand how the brain and nervous system perceive pain.
The technology could one day lead to better treatment of patients with brain or spinal cord injuries who have bladder control problems, or others who suffer from intractable hiccups, a persistent, difficult-to-manage condition generated by the nervous system, said Petruska, a College of Medicine neuroscience doctoral student. Related research also could someday yield new pain drugs.
The electrode apparatus enables researchers to examine how small nerve fibers communicate pain signals, messages that until now have been difficult to detect because the activity of larger nerve fibers masks them.
Last September, Petruska was honored as one of three national winners in the BFGoodrich Collegiate Inventors Program All-Collegiate Category for the invention. Petruska and his adviser, UF neurophysiologist Richard Johnson, have received a U.S. patent on the device and method for using it.
"The ability to study specific nerve groups in isolation to this degree has not existed until this point," said Johnson, an associate professor of physiological sciences in UF's College of Veterinary Medicine. "The immediate use of this technology would be in the laboratory working with animal models, but with enough research and further development, it's possible the device would have clinical applications."
Petruska and Johnson's work was detailed in the Aug. 24 issue of the journal Experimental Brain Research. Charles Hubscher, a visiting assistant in physiological sciences, also is a co-author of the paper. All three are members of the UF Brain Institute.
Nerve fibers carry impulses to and from the brain and nerve centers, which are groups of cells that control specific bodily functions. When studying bundles or groups of nerves, scientists can electrically stimulate a specific site and then record the activity centrally in the brain or spinal cord. The pain-related information is transmitted through small nerve fibers, whose signals typically are contaminated by the activity generated by larger nerve fibers.
The new device allows only the activity of the small nerve fibers to be transmitted. This is done by attaching one large and one small electrode to a nerve between the stimulation and recording sites, and applying a customized electrical current. In developing the device, Petruska used sciatic (hip) nerves in deeply anesthetized rats.
"This is strictly a research tool at this point, but studying input from these small nerve fibers is very important in understanding the nervous system pathways and mechanisms involved in pain perception," Petruska said.
"Another potential future use of this device would be to help researchers develop new pain drugs," he said. "This technology could be used to confirm and extend our knowledge of which areas of the brain and spinal cord are involved in processing pain. Coupling that information with studies showing which neurotransmitters the neurons are using may enable the design of new drugs to block different types of pain."
BFGoodrich honored Petruska in September at the National Inventors Hall of Fame induction ceremony in Akron, Ohio. He received $7,500 and a trip to the event. His adviser, Johnson, also won $2,500 and a trip to the ceremony.
The BFGoodrich Inventors Program, which began in 1990, honors six inventors each year: three in the undergraduate category and three in the all-collegiate or graduate category. This year's two other graduate winners were from the University of Virginia and Yale University.
Paul Ramey
Related web site:
http://www.ufbi.ufl.edu/physdept/Composed/cstim1.htm