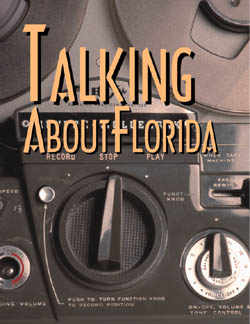 Talking About Florida
UF's Samuel Proctor Oral History Program Records The History Of The State Through The Words Of Its People
By Michael Podolsky
Julian Pleasants wants the state's most interesting people - famous or not - to live forever.
As director of UF's Samuel Proctor Oral History Program, Pleasants and his staff are immortalizing intriguing Floridians, from former governors, congressmen and multi-millionaires to Native Americans, Depression-era civil servants and newspaper editors.
To capture their essence, oral historians spend hours interviewing their subjects, recording their every word. With many, the goal is to find the stories behind the events, the motivations for this piece of legislation or the personalities behind that political campaign. For others, it is simply to document vanishing lifestyles, or the adaptations some have had to make to change.
For still others, it is simply a record of their lives, who they've seen, where they've been, what they've experienced and how they've lived.
"Oral history is a way of getting behind the official records," Pleasants says. "It's history told by the people who were there. Almost none of the official records tell you the why of a vote. You can't tell how a compromise was worked out from a legislative voting summary."
The people who make it into the archives of the Oral History Program range from the state's most famous sons and daughters to its most obscure.
"It's not everyone that we feel is deserving of an oral history, but it's not just famous or successful people who are the subject of interviews," Pleasants says. "You have to have led a fascinating life, or lived though fascinating times."
An example, he says, is the project to interview men who worked with the Civilian Conservation Corps during the Great Depression of the 1930s. These everyday men came from across the country to build parks, roads and highways
for the government.
"For many, this work was the difference between their family starving or not," Pleasants says. "Without talking to these men, there would be no way to know what life was like back then. These were men who worked at everyday projects."
Pleasants took over the program three years ago from its founder and namesake, Distinguished Service Professor Emeritus of History Samuel Proctor. The scope of the program has expanded to include interviews with members of Gainesville's African-American community, Florida newspaper editors and publishers, those who helped found UF's Health Center and UF Olympians, most notably Tracy Caulkins, winner of three gold medals in swimming.
"We asked her what is was like to win a gold medal at the Olympics," he says. "We also asked her what it took to achieve that level of competition. How you go from pee-wee swimming league to the best swimmer in the world. These are the types of things that oral history can find out."
The program has also interviewed every living Florida governor and many of the state's congressmen. Of particular interest, Pleasants says, is an interview he did with Pete Peterson, a former congressman and now U.S. Ambassador to Vietnam. Peterson was held in a North Vietnamese prisoner- of-war camp for six years.
"Up until that point, he had never really talked about his Vietnam experience," Pleasants says. "He started to really open up about it, and I realized that this was an incredible interview. I decided that as long as he wanted to talk about it, I would not go on to any of the other subjects I had prepared for. It was really extraordinary."
After an interview, a verbatim transcript is made of the tapes. This raw manuscript is forwarded to the interview subject, who reviews it, makes corrections, additions and deletions and returns it to the oral historian. The final copy is then edited, bound and becomes available for research purposes. UF's program has conducted more than 3,200 interviews, resulting in more than 80,000 pages of transcribed material.
Prodigious research is needed before an interview, says Proctor."You've got to do at least two to three hours of research
for every hour that you are going to be talking to a person.
And sometimes these interviews can last for 20 hours over several days," Proctor says. "And you've got to get them at the right time."
If an oral historian waits too long, Proctor says, a subject's memory may fade. An interviewer must also be trained in the art of interviewing.
"It's amazing what people can recall 30 or even 40 years after the fact," he says. "But you have to know how to ask
the questions. You have to be a good interviewer and ask open-ended questions. Very often, I've had people tell me that they never really thought about things the way I've asked them to think about them."
And, of course, waiting too long also can result in losing the opportunity altogether. That's what happened with Gov. Lawton Chiles, who died last December, just weeks before Pleasants was scheduled to interview him.
"For every one we get, we may lose 10," says Proctor, explaining why age is often the deciding factor in who gets interviewed first.
Most people are eager to talk about their lives, although sometimes oral historians must delve into topics interviewees would rather forget.
Proctor says his interview with former UF President J. Wayne Reitz was like that when he delved into the controversy surrounding Reitz's involvement with the Johns Committee in the1950s, which resulted in the firing of more than 20 faculty members who were accused of being gay.
"Reitz clearly was uncomfortable with that line of questioning, but I felt it was an important part of his legacy," Proctor says. "We eventually got around to talking about it."
Oral history is both the oldest type of historical inquiry, predating the written word, and one of the most modern, initiated with the advent of portable, affordable tape recorders in the 1940s. One of the earliest practitioners of modern oral history was Columbia University Professor Alan Nevins. While working on a biography of Grover Cleveland, Nevins interviewed people who had known or worked with the former president. Nevins realized that his interviews could be a valuable resource to others doing historical research of the period.
As the oral history concept spread, historians tended to concentrate on issues of regional interest. The University of Texas, for example, began an oral history project of the oil industry, while the University of California began chronicling Earl Warren even before he was elevated to Chief Justice of the United States.
Proctor was in attendance at a 1967 workshop Nevins conducted at Columbia that concluded with the founding of the U.S. Oral History Association. Inspired by the event, Proctor returned to Gainesville and approached the UF libraries about starting a Florida oral history project. Proctor served as president of the U.S. Oral History Association in 1975.
With no money and only a typewriter and a makeshift tape recorder, Proctor's first subject was Marna Brady, UF's first Dean of Women. It also helped that Brady, who had been dean of women when UF officially became coeducational in 1947, was Proctor's neighbor.
"It was an easy decision to make," Proctor recalled. "She was there for the difficult transition from an all-male school to a
coed one. She knew how the faculty reacted. There was a lot of human interest that we could never get from official records."
Proctor's first interview took place in his backyard, where Brady recounted for him the first years of gender integration. Unfortunately, Proctor, being new to the oral history process, forgot an important step.
"I realized later, when I went to review the tape, that I had forgotten to press record and ended up with nothing," he says.
"Of course, I went to Marna and told her that there had been a failure on the part of the tape recorder and we re-did the interview. I never made that mistake again."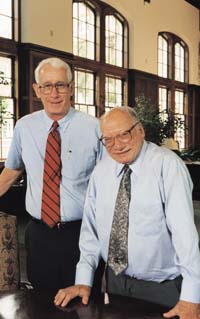 Initially, Proctor's oral history program concentrated on the university. "The people who were subjects were all around Gainesville," he says. "With no budget, it made sense to concentrate on what was available."
In 1971, a historian at the University of Utah, which was conducting an extensive oral history project funded by tobacco heiress Doris Duke on Native Americans, contacted Proctor about interviewing Seminole Indians.
"The library is filled with books about Indians, but none of them are written by Indians," Proctor says. "We wanted to give the Indians a chance to speak for themselves."
A $60,000 grant was soon on its way to UF and Proctor, then-UF history department Chair John Mahon and then-anthropology department Chair Charles Fairbanks were on their way to Hollywood, Fla., to speak to the Seminole Tribal Council. After getting approval from the council, Proctor commenced with the first of what would later turn out to be close to 175 interviews. When the University of Utah sought interviews from other Native Americans in the region, UF formed the Center for the Study of Southeastern Indians, under which more than 900 Native Americans have been interviewed.
"We want to see how people adapted their culture to the immense changes that they have undergone over the past 100 years," Pleasants says. "And even in the past 10 years, the changes have been profound. We want to be able to let them leave a legacy."
Oral history is all about leaving legacies. Proctor and Pleasants have traveled the state, giving workshops to people in communities who want to record their own history in the words of the people who lived it.
In Miami, a group of oral historians has begun recording memories of those who lived through the Holocaust, while in sprawling and rapidly developing Orlando, people are trying to retain the history and personalities of individual neighborhoods.
All these topics, and countless others, are rich fodder for the oral historian. And with the largest collection of interviews and transcripts in the Southeast, UF's Samuel Proctor Oral History Program is paving the way for the future to learn about the past from those who lived it.
Julian Pleasants
Associate Professor and Director of Oral History Program
(352) 392-6584
jpleasan@history.ufl.edu
Samuel Proctor
Distinguished Service Professor Emeritus of History
(352) 392-6584
sproctor@history.ufl.edu
Related web site:
http://web.history.ufl.edu/oral/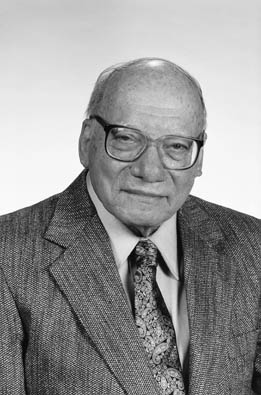 Samuel Proctor: Florida Historian
Samuel Proctor may be the University of Florida's official historian, but, truth be told, he's a bit of history himself.
"I'm a native Floridian and you don't see too many of us," says the 80-year-old Proctor. "At least not at my age."
Most of his life has been spent at the university whose history he chronicles; first as a student, then as a professor. He received his bachelor's degree in history in 1941 and went on to get his master's in 1942 and his Ph.D. in 1958.
"I come from a family of Gators," Proctor says. "My four brothers, two sons, a son-in-law and myriad nieces, nephews and cousins attended the University of Florida."
In fact, since he arrived on the UF campus as a freshman in 1937, the only time he's been away from Gainesville for any extended time was to serve in the Army during World War II.
"I've worn a lot of hats at the university," Proctor says. "But it wasn't my original intent to be here this long."
In fact, when he was discharged from the Army in February 1946, he planned to start law school that Fall. He was faced with choosing between Ohio State, which had offered him a full scholarship, and Yale, which had offered to pay a part of his tuition.
But fate intervened - and in Proctor's case, fate took the form of William Carlton, then-chairman of UF's Department of American Institutions.
"Bill Carlton ran into my brother and asked how I was doing," Proctor recalled. "The next thing I know, Carlton's on the phone asking me to come to UF to help teach a history course over the summer."
Carlton, for whom UF's largest lecture hall is named, needed additional instructors to help with the enrollment boom created by the G.I. Bill.
"I really didn't know anything about teaching," Proctor says. "So I came to Gainesville that summer and I really enjoyed it. Well, that next year, enrollment went up again and Bill Carlton asked if I would be willing to stay on if he could get the colleges to which I had been accepted to postpone my enrollment for another year.
"So I stayed for the 1946-47 school year and at the end of that year, I was hooked," Proctor says. "I realized that this was the thing I wanted to do."
In 1948, Proctor was promoted to assistant professor and granted tenure ("It was far easier back then," he recalls with a chuckle.) He steadily rose through the ranks of the history department and eventually was named Distinguished Service Professor in 1972.
During this time, he also became one of the leading authorities on the history of Florida. With UF support, he edited the Florida Historical Quarterly, the state historical journal, from its inception in 1963 to 1994 - 31 years.
Proctor became official University of Florida historian when then-UF President J. Hillis Miller wanted a history of the university for the school's centennial celebration in 1953.
In his years at UF, Proctor has indeed become an institution. He's written six books, including Gator History, edited 35 other books and written some 80 articles. He also receives countless calls from people curious about UF history.
"I guess it's easier to call Proctor than it is to look in my book or go to the library," he says. "People expect me to know everything; they think I can answer every question. All I can do is try."