At UF's Center For The Study Of Children's Literature And Media, Anytime Is Playtime
By Jane Gibson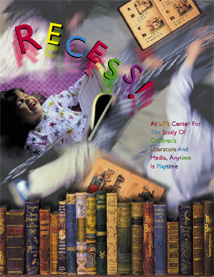 Pull one string and hear the gentle bleating of a lamb. Pull another and be serenaded by a cow. The newest interactive toy from Fisher-Price? Hardly. More than 100 years old, this surprisingly well-preserved Victorian talking book is part of the University of Florida's extensive Baldwin Library of Historical Children's Literature, which contains more than 93,000 volumes, including a 17th-century edition of Aesop's Fables, pop-up books from the 18th and 19th centuries, the first American edition of Alice in Wonderland and complete runs of 20th-century adventure series like Nancy Drew and the Hardy Boys.
The Baldwin's impressive holdings have inspired a series of initiatives by UF's new Center for the Study of Children's Literature and Media to bring the university's expertise and resources on children's studies into the national spotlight.
The interdisciplinary center, directed by UF English Professor and children's book author John Cech, premiered its first project on August 31: a pilot radio series called "Recess!" which airs daily on UF's National Public Radio (NPR) affiliate, Classic 89 WUFT-FM, and is being offered free of charge to other NPR stations across the country. Created for adults, the three-minute show explores the rich mosaic of children's literature and media, past and present.
"Along with a great deal of helpful information, the program is full of surprises," says Cech. "We offer regular reviews of the latest children's books and recordings, as well as previews of current movies and the best of the new cartoons and TV shows. We also feature interviews with leading creators of works for children and with those making news or interesting contributions to the dynamic mix of elements that form children's culture."
The center emphasizes children's participation, with kids serving as "Recess!" consultants, offering their thoughts on the latest media, books or toys.
"We are in the field whenever possible," Cech says. "At the library one day, in a classroom or at a playground another, talking with kids about subjects close to them."
And, of course, the Baldwin Collection plays an integral part in center programs. Baldwin Curator Rita Smith, who also serves as the center's assistant director, has recorded segments for "Recess!" about the collection's history and content, and reads her own essays on such subjects as the lively inscriptions and turn-of-the-century baseball cards she has found among the collection's eclectic pages. Other "Recess!" segments will feature interviews with national public figures discussing the children's books that influenced their lives.
The College of Liberal Arts and Sciences, the Department of English and the College of Journalism and Communications have jointly funded the four-month pilot of "Recess!" Cech is optimistic that, like NPR regulars "StarDate" and "The Writers Almanac," "Recess!" will get picked up by a significant number of stations during the 16-week promotional period (which ends Dec. 31, 1999). If successful, "Recess!" may also attract vital support for future Center for the Study of Children's Literature and Media efforts.
"We hope the first radio segments will be a magnet for funding support from those sources interested in bringing literature and the arts into the lives of families," Cech explains.
Cech and his colleagues have no shortage of innovative ideas on the drawing board. Once "Recess!" gets off the ground, they hope to produce a video documentary on the history of children's manners books, utilizing the Baldwin's array of material on the subject, which ranges from copies of medieval courtesy books to neatly bound moral treatises from the 17th and 18th centuries, and early 20th-century offerings, in which lessons in conduct were often embedded in cartoons or humorous verse.
"The message to kids is essentially the same every century," laughs Smith. "Don't eat too fast, sit quietly at the table, that kind of thing. But the books of manners that are published today are much more visually appealing and amusing than those from previous centuries."
"Using a variety of compelling illustrations from the Baldwin," says Cech, "and interspersing these with readings and commentaries from experts, we hope to create an exciting, informative production that appeals to a wide audience. Now, if we could persuade Judith Martin (Miss Manners) to host the program, that would be the icing on the cake."
The center is also in the early planning stages of another documentary that would commemorate the centennial of L. Frank Baum's classic The Wizard of Oz, published in 1900.
Cech is hopeful that innovative projects like these "will let people know that UF has a tremendous facility and a very interesting, nationally recognized group of experts working on this material." In addition to Cech and Smith, the center board includes several other UF faculty, including English Professor John Seelye, an internationally known 19th-century scholar whose specialties include Mark Twain and boys' adventure stories; history Professor John Sommerville, author of several histories of childhood; and English Professor Jim Haskins, award-winning author of more than 100 books for adults and young people. Often called "the unofficial biographer of black America," Haskins recently co-authored I Am Rosa Parks with that book's namesake. Also on the board are UF education Professor and early-childhood specialist Linda Lamme and new assistant professors of English Kenneth Kidd and Maude Hines, both of whom are currently writing books about 19th-century American children's literature.
In coming years, the center plans to work with local museums, libraries and school systems to organize programs in art and literature and to sponsor lecture series and conferences on topics of children's culture.
"Eventually, we'd like to host an international conference on the role of the children's book in the 21st century," says Cech. "As our world becomes increasingly wired, what's going to happen to the traditional form of the book? How will it be transformed for our grandchildren? And how will these changes alter the whole experience of reading, thinking and imagining?"
Despite his affinity for the book, Cech remains cautiously optimistic about the potential of new media.
"Whether we like it or not, the media have taken on the role of storyteller and culture-giver for many kids today, a fact of our present reality that asks us to examine what these new narrative modes are offering children. I see us at the center providing critiques of the media, of course, that's essential and vital. But I also hope that we may be able to suggest positive ways that these media may serve the imaginative lives of children."
Cech would like to invite such significant trendsetters as Disney and Nickelodeon to participate in the discussion.
"We have to find ways to open dialogues among the many groups that are involved in educating children," he says. "Although the tendency of the academic community is to dismiss producers of commercial works, I think we should look carefully at what these companies are generating for young people, hear their ideas and let them hear ours. Who knows where such a conversation might lead?"
"Recess!" can be heard on WUFT-FM (89.1) weekdays at 6:55 a.m. and at various times on participating NPR stations around the country.
John Cech
Professor, Department of English
(352) 392-6650
jcech@english.ufl.edu
Rita Smith
Assistant University Librarian, Department of Special Collections
(352) 392-0369
ritsmit@mail.uflib.ufl.edu
Related web site:
http://www.recess.ufl.edu
Photos by Gene Bednarek


The Baldwin Library Of Historical Children's Literature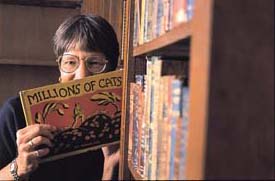 When The Lion and the Unicorn, an international journal of children's literature, devoted its September 1998 issue to "The Great Collectors," Ruth Baldwin's picture was on the cover. Such was the late UF librarian's impact on the field of children's literature.
Baldwin spent more than 40 years collecting the thousands of children's books that form the nucleus of the University of Florida library that bears her name, scouring bookstores, garage sales and catalogs for generations of children's favorites.
Today, the Baldwin Library of Historical Children's Literature contains more than 93,000 volumes published in Great Britain and the United States from the early 1700s through the 1990s. Its holdings of more than 800 titles published in North America prior to 1821 make it one of the largest such collections in the United States.
Although the Baldwin Library contains many well-known titles, it emphasizes the entire spectrum of books known to have been read by children. Ironically, the least-valued books at one time, such as the best-selling, inexpensive Little Golden Boks, have now become some of the rarest, since no one bothered to save copies of them. No one, that is, but Ruth Baldwin.
"Ruth Baldwin felt it was her responsibility to salvage these books, not the pristine deluxe volumes that others have collected, but the volumes that were loved and read by children and so ordinary that no one else collected them," Rita Smith, the collection's curator, wrote in The Lion and the Unicorn.
This vast assemblage of literature printed primarily for children offers countless topics for the scholar: education and upbringing; family and gender roles; civic values; racial; religious and moral attitudes; literary style and format; and the arts of illustration and book design. Indeed, many bibliographies of children's literature were born at the Baldwin.
Gillian Avery, an international authority on children's literature, dedicated her 1995 book Behold the Child: American Children and Their Books, 1621-1922 to Ruth Baldwin, who, she said in the preface, "made me aware of the unmined richness of American children's books of the past."
The collection includes picture books, moral tales, periodicals, adolescent fiction, adventure stories, poetry books, pop-ups, natural histories, geographies, biographies and more than 6,000 19th-century books and tracts published for children by religious organizations such as the American Sunday School Union.
There are also many titles in the Baldwin represented by numerous editions, providing a unique opportunity to examine the evolution of a single text over time. For example, more than 300 British and American editions of Robinson Crusoe published from 1719 through the mid-1980s are among the holdings.
"The Baldwin is unique in that it gives us almost a complete history of American children's books from the beginning to the present," says John Cech, director of UF's Center for the Study of Children's Literature and Media. "Children's books are so ephemeral - the most ephemeral of any literature. Kids read them and threw them in the corner, slept on them, scribbled in them, wrote in them and passed them on to siblings or friends who did the same.
"Ruth Baldwin was keenly aware of the need to establish and preserve a body of research materials that could help us understand what children actually read rather than what ended up in rare book libraries or in the hands of some privileged collector."
"If the child is the father of the man and if we believe that the readings of a child influence him in later life, then this library is a rich source of influences on what we as a society and as individuals have become," Baldwin once said in a speech. "It allows us to trace our roots, to define cultural, social and religious influences, to discover what ideas and impressions children dragged with them into adulthood."
Related web sites:
http://web.uflib.ufl.edu/spec/baldwin/baldwin.html
http://muse.jhu.edu/journals/lion_and_the_unicorn/v022/




John Cech: Inspiring Children With Words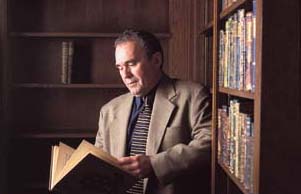 "Children's books represent our first encounters with literature, in which we hear words used beautifully and tune ourselves to the rhythms of our language. One can't overstate the value of children's literature. Millions of people who will never read Tolstoy or Shakespeare will read Charlotte's Web - and never forget the experience. Einstein kept a volume of Grimm's Fairy Tales on his night table throughout his life because he said they sparked his imagination." - John Cech
Like Charlotte's Web author E.B. White, UF English Professor John Cech inspires children with words used beautifully. Long a celebrated teacher and scholar, in the last decade Cech has become a prolific children's book author, producing five books since 1991.
Cech's vibrant, unique work for young people includes My Grandmother's Journey (1991), based on the true stories of his wife's mother, a Russian immigrant; two folklore-inspired tales - First Snow, Magic Snow (1992) and Django (1994); Jacques-Henri Lartigue: Boy with a Camera (1994), which features the astounding childhood work of Lartigue, a well-loved French photographer; and The Southernmost Cat (1995), a Key West adventure story whose animal characters closely resemble popular American literary figures, chief among them Ernest Hemingway. Cech's first novel for adults, A Rush of Dreamers (1998), is a Twainian romp through gold-rush San Francisco, based on the story of real-life 19th-century eccentric Joshua Norton, the self-proclaimed Emperor of the United States.
Cech joined the UF faculty in 1976, shortly after receiving his Ph.D. from the University of Connecticut. His teaching and research interests combine American and children's literature. In addition to his children's books, Cech has written critical and scholarly works including Charles Olson and Edward Dahlberg: Portrait of a Friendship (1982) and Angels and Wild Things: The Archetypal Poetics of Maurice Sendak (1995).
Cech's articles and reviews have appeared in The Christian Science Monitor, Child, The Horn Bok, The New York Times Book Review, Parabola and The Washington Post. Over the years, he has served as the president of the Children's Literature Association, the book review editor of Children's Literature (Yale) from 1982-1996 and a commentator on children's culture for National Public Radio's "All Things Considered" (1982-1984). In 1992 he received the Chandler Award for his contributions to the field of children's literature.