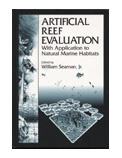 Artificial Reef Evaluation
With Application to Natural Marine Habitats
Edited by William Seaman Jr.
CRC Press
Beneath the coastal waters of the world lie thousands of artificial reefs — mostly old and retired freighters and ships — that once plied the oceans of the world but now serve as habitats for marine life. And as the field of aquatic habitat technology continues to grow, more and more of these "sunken treasures" are being deployed by dozens of developing and industrial nations around the globe. Investors who fund reef construction projects, however, are no longer content simply to put structures on the sea floor without documenting their results. They want data to evaluate the performance of reefs to answer economic, environmental and policy questions.
Artificial Reef Evaluation With Application to Natural Marine Habitats is a comprehensive guide to the methods used to evaluate how well artificial reefs in coastal and oceanic waters meet their objectives. It is the first volume to combine the essential disciplines required for evaluation, including engineering, economics, biology and statistics. This work covers everything from the design of reef studies and multidisciplinary methods of investigation to data analysis and examples of applying the methods to reefs built for different purposes. Case studies of typical reef evaluation procedures are also included. Further, the methods examined in this book apply to other benthic marine habitats, such as coral reefs or "live bottom," thus expanding the book's relevance to an even wider audience and enhancing research efforts in the field of artificial habitat technology.

William Seaman Jr. is a professor of fisheries and aquatic sciences and associate director of the Florida Sea Grant College Program at the University of Florida. He was senior editor for Artificial Habitats for Marine and Freshwater Fisheries and is past president of the Florida Chapter of the American Fisheries Society.
---

Redefining Fatherhood
Nancy E. Dowd
New York University Press
"A marvelous book. Timely and challenging, Redefining Fatherhood makes an important contribution to the debate currently raging about fatherhood and fathering. Redefining Fatherhood highlights many of the contradictions and ambivalences that surround present societal attitudes toward men and parenthood." — Richard Collier, Professor of Law and Social Theory, University of Newcastle Upon Tyne, England
Most fathers parent less than most mothers. Those fathers who do parent equally or more so than mothers are poorly supported by our society. For children this means a loss of adult care, as well as an ongoing and sharply defined differentiation between fathers and mothers. Fathers are not present in children's lives to a significant degree, if at all, or when they are present, they are often rendered socially invisible. For many men, their parenthood is defined as biological or economic, while a minority of men struggle against the presumption that they are not caregivers.
In Redefining Fatherhood, Nancy Dowd argues that this skewed social pattern is mirrored and supported by law. Dowd makes the case for reenvisioning fatherhood away from genes and dollars, and toward nurture. Integrating economic, social and legal aspects of fathering, she makes the case for focusing on social, nurturing behavior as the core meaning of fatherhood. In this nuanced and complex analysis, she explores the barriers to redefinition, including concepts of masculinity, the interconnections between fathers and mothers, male violence and homophobia.
Redefining Fatherhood offers a progressive view on how men, and society at large, can change understandings and practices of fatherhood.

Nancy E. Dowd is a professor of law, University Research Foundation Professor and Trustee Research Scholar at the University of Florida and author of In Defense of Single-Parent Families.
---

Loving Across The Color Line
A White Adoptive Mother Learns About Race
Sharon Rush
Rowman & Littlefield Publishers
What would a liberal, white, civil rights law professor have to learn about race? When Sharon Rush adopted an African-American girl, she quickly discovered the need to throw out old assumptions and start learning over again.
This is the moving, heartfelt memoir of a mother and daughter's loving relationship that opened the author's eyes to the harsh realities of the American racial divide. Only by living with her daughter through the day-to-day encounters and life passages did Rush learn that racism is far more devastating to blacks than most whites can ever imagine.
Some of the stories are funny, others are sad, a few are almost unbelievable. But they all are poignant because they illustrate how insightful a little three-year-old black girl can be about race and justice. Their stories also recount the author's struggle, as her daughter grew older, to come to grips with her own growing awareness of racism in America.
With love and spirituality, Rush and her daughter live a deeply joyous life, just as they both have become increasingly active in working publicly and privately against racism. Readers who journey across the color line with the author and her daughter will come away with a real-life encounter with racism and a deeper understanding of it.

Sharon Rush is a civil rights lawyer and the Irving Cypen Professor of Law at the University of Florida. She has been studying race for more than 15 years and currently lives with her daughter in Gainesville.
---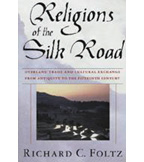 Religions of the Silk Road
Richard C. Foltz
St. Martin's Griffin
"... an absolute gem ... well researched and well written, it brings together a huge amount of information in an attractive package."
— Jerry H. Bentley, Editor, Journal of World History
Ever since the label was coined in the late-19th century, the idea of the Silk Road has captivated the Western imagination with images of fabled cities and exotic peoples.
Religions of the Silk Road looks behind the romantic notions of the colonial era and tells the story of how cultural traditions, especially in the form of religious ideas, accompanied merchants and their goods along the overland Asian trade routes in pre-modern times. As early as three thousand years ago Hebraic and Iranian religious ideas and practices traveled eastward in this way, to be followed centuries later by the great missionary traditions of Buddhism, Christianity, Manichaeism and Islam. But the Silk Road was more than just a conduit along which these religions hitched rides East; it was a formative and transformative rite of passage, and no religion emerged unchanged at the end of the journey.

Richard C. Foltz is an assistant professor of religion at the University of Florida. He holds a Ph.D. in History from Harvard University and has taught at Brown, Columbia and Gettysburg College. He is the author of Mughal India and Central Asia and Conversations with Emperor Jahangir.
---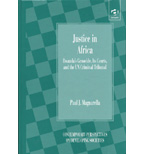 Justice in Africa
Rwanda's Genocide, Its Courts, and the UN Criminal Tribunal
Paul J. Magnarella
Ashgate Publishing Co.
Justice in Africa is the recipient of the Association of Third World Studies 2000 Book of the Year Award.
Justice in Africa describes the United Nations International Criminal Tribunal for Rwanda (ICTR) — the first international court created to try persons for genocide and violation of the humanitarian law of non-international armed conflict.
The book begins with an explanation of the causes of the 1994 genocide in Rwanda. It then discusses the UN Security Council's creation of the ICTR and the tribunal's organization, functioning, accomplishments and shortcomings. The author explains how the tribunal has gained custody over suspects who had fled to other countries in Africa, Europe and the United States.
Justice in Africa analyzes the ICTR's first several cases and describes the unique contributions the tribunal is making to the expansion of humanitarian law.
In addition, the author describes Rwanda's own legal attempts to deal with the trauma of 1994 by passing a new genocide statute and creating special genocide courts. He also explains the similarities and differences between the tribunal for Rwanda and the one created by the UN Security Council to deal with major crimes committed during the breakup of the former Yugoslavia.

Paul J. Magnarella is professor of anthropology and affiliated professor of law and African studies at the University of Florida. His previous books include The Peasant Venture, Tradition and Change in a Turkish Town, Human Materialism: A Model of Sociocultural Systems and a Strategy for Analysis, and Anatolia's Loom: Studies in Turkish Culture, Society, Politics and Law.
---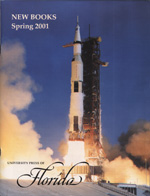 University Press of Florida
University Press of Florida publishes scholarly books in the arts, humanities, and natural and social sciences. The Press also publishes books of interest and significance for our region and state. The Press publishes in the areas of Latin American and Caribbean studies, literary criticism and theory, philosophy, fine arts, international studies, Southern history and culture, archaeology of the Southeast, and Floridiana. For more information and to view University Press of Florida's catalog, visit its website at http://www.upf.com