Explore Magazine Volume 6 Issue 2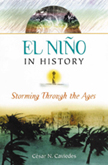 El Nino In History
Storming Through the Ages
Cesar N. Caviedes
University Press of Florida

"A staggering amount of historical research to pinpoint El Nino events in time and space, interpret them using physical theory, and correlate them with human history."
– Betty J. Meggers, Smithsonian Institution

Cesar Caviedes provides the first comprehensive historical account of El Nino, the fascinating and disruptive weather phenomenon that has affected weather cycles all over the globe for thousands of years. Combining scientific accuracy with readable presentation, he brings together all existing information, references and clues about past El Nino occurrences and their impact on political, military, social, economic and environmental history. This sweeping demonstration of the impact of climatic fluctuation on human history will be fascinating to the scientific community as well as to the general public.

From the extraordinary discovery of Easter Island and Pizarro's conquest of the Incas to the defeat of both Napoleon and Hitler in Russia and the sinking of the Titanic, Caviedes shows how this enigmatic phenomenon has swayed the course of history and human affairs. Searching historical sources, traditional accounts, archaeological findings and geological evidence in North America, South America and Europe, Caviedes discusses in length the toll that El Ninos have taken on populations in various parts of the world and offers an overview of La Nina, the equally feared twin.

Cesar N. Caviedes, professor and past chair of the Department of Geography at the University of Florida, is the author or coauthor of nine books, including South America. A respected authority on El Nino for 30 years, he has published and lectured extensively on El Nino in North and South America, Europe and Japan.

---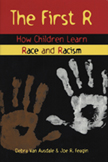 The First R
How Children Learn Race and Racism
Debra Van Ausdale and Joe R. Feagin
Rowman & Littlefield Publishers
"A sensitive and politically sophisticated work of on-site observation and engaging scholarship which ought to shake our nation from its equanimity. The lessons we were given long ago by Dr. Kenneth Clark and, nearly one hundred years ago by W. E. B. DuBois, have yet to be internalized. Perhaps, as the authors of this valuable and stirring work suggest, it is our children who will prove to be our wisest teachers."
-Jonathan Kozol, author of Savage Inequalities: Children in America's Schools
Writers since Piaget have questioned when and how children assimilate racist attitudes -- or simply become aware of racial differences. This remarkable book offers stirring evidence that the answers may be more surprising than we ever imagined. The careful ethnographic analysis, conducted over many months, led the authors to question many of our long-held assumptions about the nature of race and racial learning in American society. The stories of the children are compelling, often endearing and unforgettable. They will change the way parents, teachers and other educators understand the world as seen by children.

Debra Van Ausdale is assistant professor of sociology at Syracuse University, where her research interests continue to focus on children and racism. She is also conducting ethnographic research on the American motorcycling community.

Joe R. Feagin is graduate research professor in sociology at the University of Florida. He conducts research on a variety of issues connected to racism and sexism. Among his many books are Living with Racism: The Black Middle Class Experience; White Racism: The Basics; Double Burden: Black Women and Everyday Racism and The New Urban Paradigm.

---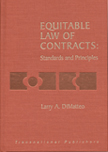 Equitable Law of Contracts
Standards and Principles
Larry A. DiMatteo
Transnational Publishers
The evolution of democratic institutions in the 20th century has shown that no legal theory is less democratic than unfettered freedom of contract -- a principle long enshrined as the centerpiece of Anglo-American contract law.

This remarkable study places the modern development of equitable contract principles on a firm theoretical foundation. It shows that the idea of the just and equitable contract has never been entirely absent from contract law, and that its persistence in various guises, albeit often in a covert manner, has in fact been the essential element in judicial enforcement of contracts since Roman times. In support of his thesis, Professor DiMatteo plumbs the deepest currents of common law and civil law practice in every age, showing how the principles of justice formulated by Aristotle, Augustine, Thomas Aquinas, Kant, Hegel, Max Weber, Emile Durkheim, John Rawls and other influential thinkers have become manifest in such underlying equitable contract principles as "just price," unconscionability, and reasonableness, as well as in the myriad of equitable intervention doctrines that characterize current Anglo-American practice.
Larry DiMatteo is assistant professor of legal studies at the Warrington College of Business, University of Florida. He is the author of The Law of International Contracting.

---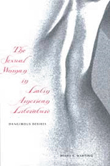 The Sexual Woman in
Latin American Literature
Dangerous Desires
Diane E. Marting
University Press of Florida
Latin American fiction achieved a turning point in its representation of sexual women sometime in the 1960s. Diane E. Marting offers a richly detailed analysis of this development.

Her central idea is that in Latin America narrative women's desires were portrayed as dangerous throughout the 20th century, despite the heroic character of the "newly sexed woman" of the sixties. She argues that women's sexuality in fiction was transformed because it symbolized the many other changes occurring in women's lives regarding their families, workplaces, societies and nations. Female sexual desire offered an ever-present threat to male privilege. Marting's book surveys the topic of women's sexuality in the work of both men and women writers and engages two current controversies: feminist and moral issues related to the female body, and the nature of literary history.

Diane E. Marting, assistant professor of Romance languages and literatures at the University of Florida, is the editor of three books, including Clarice Lispector: A Bio-Bibliography, and the author of many articles in journals such as Modern Language Notes, Chasqui and World Literature Today.

---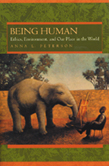 Being Human
Ethics, Environment, and Our Place in the World
Anna L. Peterson
University of California Press

"Anna Peterson's Being Human is a stellar work of integration. Peterson argues that the ideology of human exceptionalism and disconnection from the rest of nature is a major source of social and ecological harm. She draws together cultural constructionist, Asian, Native American, feminist and evolutionary thought to present a view of the human as both an integral part of nature and a creator of culture."
-Rosemary Radford Ruether, author of Gaia and God: An Ecofeminist Theology of Healing
Being Human examines the complex connections among conceptions of human nature, attitudes toward nonhuman nature, and ethics. Anna Peterson proposes an "ethical anthropology" that examines how ideas of nature and humanity are bound together in ways that shape the very foundations of cultures. She discusses mainstream Western understandings of what it means to be human, as well as alternatives to these perspectives, and suggests that the construction of a compelling, coherent environmental ethics will require revising our dominant ideas not only about nature but also about what it means to be human.
Anna L. Peterson is associate professor of religion at the University of Florida and author of Martyrdom and the Politics of Religion: Progressive Catholicism in El Salvador's Civil War and co-editor of the forthcoming Christianity, Social and Globalization in the Americas.

---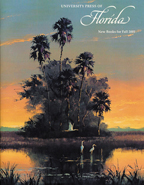 University Press of Florida publishes scholarly books in the arts, humanities, and natural and social sciences. The Press also publishes books of interest and significance for our region and state. The Press publishes in the areas of Latin American and Caribbean studies, literary criticism and theory, philosophy, fine arts, international studies, Southern history and culture, archaeology of the Southeast, and Floridiana. For more information and to view University Press of Florida's catalog, visit its website at http://www.upf.com