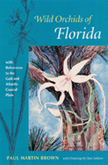 Wild Orchids of Florida
Paul Martin Brown
Drawings by Stan Folsom
University Press of Florida
"Wild Orchids of Florida is intended to be used as a field guide, but it is actually a lot more than that. . . . With this work, the present knowledge of the orchids of Florida has been brought to a high level of completeness for the beginning of the second millennium."
Carlyle A. Luer, The Native Orchids of Florida
In more than 100 years of orchid research in Florida, Wild Orchids of Florida is the first field guide to be published for this orchid-rich state. Providing more than 400 color photos as well as line drawings by Stan Folsom, distribution maps and detailed descriptions of each species, this guide should enable even the novice to easily identify any of the orchids found growing in the wild.

Illustrated keys are provided to aid in identification. Each of the 117 species and varieties has a full page of text, a line drawing and distribution map with a facing page of full-color photographs. Species deemed as naturalized, escaped or waifs are also treated. A final chapter enabling the reader to use this book in the nearby southeastern Coastal Plain states makes it an even more valuable resource.

Brown also resolves several sources of confusion regarding the naming and location of plants. A chapter on synonyms and misapplied names addresses the problem of multiple names for a single species and is unique among field guides. A section on the changing Florida county lines and their dates makes for a better understanding of the geography of Florida.
Paul Martin Brown is a research associate at the University of Florida Herbarium, Florida Museum of Natural History, author of Wild Orchids of the Northeastern United States, and founder and editor of the North American Native Orchid Journal.
---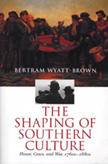 The Shaping of Southern Culture
Honor, Grace, and War, 1760s-1880s
Bertram Wyatt-Brown
University of North Carolina Press
Extending his investigation into the ethical life of the white American South beyond what he wrote in Southern Honor (1982), Bertram Wyatt-Brown explores three major themes in Southern history: the political aspects of the South's code of honor, the increasing prominence of Protestant faith in white southerners' lives and the devastating impact of war, defeat and an angry loss of confidence during the post-Civil War era.

This eloquent and richly textured study first demonstrates the psychological complexity of race relations, drawing new and provocative comparisons between American slave oppression and the Nazi concentration camp experience. The author then reveals how the rhetoric and rituals of honor affected the Revolutionary generation and - through a study of Andrew Jackson, dueling and other demonstrations of manhood - how early American politicians won or lost popularity. In perhaps the most subtle and intriguing section of the book, he discloses the interconnections of honor and religious belief and practice. Finally, exploring the effects of war and defeat on former Confederates, Wyatt-Brown suggests that the rise of violent racism following the Civil War had significant links to the shame of military defeat and the spurious invocation of religious convictions.
Bertram Wyatt-Brown is Richard J. Milbauer Professor of History at the University of Florida. His books include Southern Honor: Ethics and Behavior in the Old South and The House of Percy: Honor, Melancholy, and Imagination in a Southern Family.
---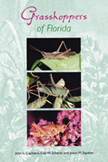 Grasshoppers of Florida
Edited by John L. Capinera,
Clay W. Scherer and Jason M. Squitier
University Press of Florida
This is an easy-to-use field guide to the grasshoppers of Florida. If you have ever wondered what that big critter is, jumping around outside, this book is for you."
-Richard A. Redak, University of California, Riverside
Until now it has not been possible to accurately identify grasshoppers in Florida, and their fascinating biology was unavailable to all but specialists.

This first field guide to the grasshoppers of Florida introduces one of the most obvious and important, though little appreciated, insect groups. It provides identification of the 70 species known to occur in Florida and may be used in other southeastern states where many of these grasshoppers are also found.

The authors present the biology, behavior, ecological significance and damage potential of grasshoppers and emphasize their interrelationship with Florida's fauna. A straightforward, detailed description of each species is accompanied by a distribution map. Nearly all species are pictured in color, and detailed line drawings help distinguish among those more difficult to identify.

Grasshoppers of Florida will be invaluable to amateur naturalists, students of entomology and natural history, and professional biologists.

John L. Capinera is professor and chair of the Department of Entomology and Nematology at the University of Florida and is the author of more than 100 scientific publications. Clay W. Scherer is an entomologist with Syngenta Crop Protection, Vero Beach, Fla.
Jason M. Squitier is an entomologist with the U.S. Army in Atlanta, Ga.
---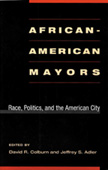 African-American Mayors:
Race, Politics, and the American City
Edited by David R. Colburn
and Jeffrey S. Adler
University of Illinois Press
"This excellent new collection of original essays on black big-city mayors provides essential historical perspective on racial change in late twentieth-century urban politics. Deeply researched and well written, this volume represents a major step forward in recent urban political history." -Raymond A. Mohl, editor of The Making of Urban America
This is the first comprehensive treatment of the complex phenomenon of African-American mayors in the nation's major urban centers. Offering a diverse portrait of leadership, conflict and almost insurmountable obstacles, this volume assesses the political alliances that brought black mayors to office as well as the accomplishments and challenges that marked their careers.

Once in office, African-American mayors faced the intractable problems of decaying inner cities, white flight, a dwindling tax base, violent crime and diminishing federal support for social programs. Many encountered hostility from their own parties, city council and police departments; others worked against long-established power structures dominated by local business owners or politicians. Still others, while trying to respond to multiple demands from a diverse constituency, were viewed as traitors by blacks expecting special attention from a leader of their own race. All struggled with the contradictory mandate of meeting the increasing needs of poor inner-city residents while keeping white businesses from fleeing to the suburbs.

Mayors profiled include Carl B. Stokes (Cleveland), Richard G. Hatcher (Gary), "Dutch" Morial (New Orleans), Harold Washington (Chicago), Tom Bradley (Los Angeles), Marion Barry (Washington, D.C.), David Dinkins (New York City), Coleman Young (Detroit) and a succession of black mayors in Atlanta (Maynard Jackson, Andrew Young and Bill Campbell).
David R. Colburn is provost and professor of history at the University of Florida. He is the author of Southern Businessmen and Desegregation, Racial Change and Community Crisis and other books. Jeffrey S. Adler is the author of Yankee Merchants and the Making of the West. Adler is an associate professor of history at the University of Florida.

---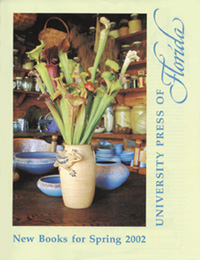 University Press of Florida publishes scholarly books in the arts,humanities, and natural and social sciences. The Press also publishes books of interest and significance for our region and state. The Press publishes in the areas of Latin American and Caribbean studies, literary criticism and theory, philosophy, fine arts, international studies, Southern history and culture, archaeology of the Southeast, and Floridiana. For more information and to view University Press of Florida's catalog, visit its website at http://www.upf.com