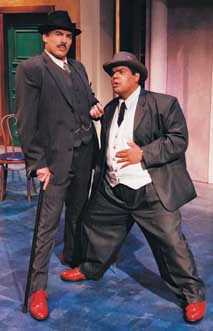 Kurt Taylor(left) and J. Salome' Martinez in the University of Florida production of Scapino!

Theatre and dance master's student J. Salomé Martinez says he was "overwhelmed" but "honored" to represent the University of Florida in the prestigious American College Theatre Festival acting competition last April at the Kennedy Center for the Performing Arts.
Martinez and scene partner Anita Cooper competed against 15 other students for the prestigious Irene Ryan Acting Scholarship and other awards. The Kennedy Center/American College Theatre Festival is a week-long national theatre education program that identifies and promotes quality college-level theatre production.
In competition, students present a monologue and a scene with a scene partner, with the total performance not exceeding five minutes. Martinez chose a monologue from Mambo Mouth by John Leguizamo and a scene from Hello and Goodbye by Athol Fugard.
The 22-year-old Martinez, originally from Chicago where he attended Barat College, walked away with $3,000 in awards, including $2,500 for the Mark Twain Comedy Acting Award, given for the best comic performance. Comic playwright Ken Ludwig, whose plays include Lend Me A Tenor and Moon Over Buffalo, selected the winner of this award.
Martinez was also chosen to receive the VASTA Vocal Excellence in Theatre award of $500 for his work in a master class offered by Kate Burke, president of the Voice and Speech Trainers Association.
Martinez earned his trip to Washington by besting a hundred other actors at the Southeast Regional American College Theatre Festival competition in February in Spartanburg, S.C.
Martinez received his Irene Ryan nomination for his portrayal of Geronte in the Department of Theatre and Dance production of Scapino!
The department enters all of its productions in the festival. A festival judge is invited to view each production and give feedback to the actors, designers and directors. Two students are nominated from each production to participate in the Irene Ryan regional festival.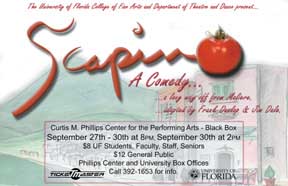 "I am honored that I was able to represent the University of Florida and my Hispanic culture at the Kennedy Center," Martinez says. "I had a wonderful experience. I hope to do it again next year!"
He will get that chance because he has been nominated to compete again in the 2003 Southeast regional festival for his work in The Seagull.
"When we first saw Salomé in Chicago at the University/ Resident Theatre Association national auditions more than 18 months ago, we realized the enormous potential and talent that Salomé has," says Kevin Marshall, professor and chair of Florida's Department of Theatre and Dance. "We were very pleased that we were able to bring him to the University of Florida for his graduate studies."
Back in Gainesville this summer, Martinez performed in the Department of Theatre and Dance's productions of As You Like It by William Shakespeare and the world premiere of Bing Bang Boom! by Stephen Chambers.
"Salomé is a very fine actor who makes you like him. His choices are always truthful," wrote a festival judge in response to Martinez's performance in Bing, Bang, Boom! "But he surprises you with creative and different twists that pull you into his performances. Salomé never resorts to the obvious, but keeps you guessing."
These comments are similar to many made about Martinez's performances this year on campus, says Marshall.
"As a director who has worked with him on two major productions, I can attest that Salomé is an extraordinary actor, one who we expect great things from in the future."