It's a good thing the seven astronauts on the space shuttle don't have to pay their own way into orbit, because at $71 million a seat, all the frequent flyer miles in the universe wouldn't make the ticket affordable.
The space shuttle has served the United States well for more than 20 years but, at a cost of $500 million per launch, it is prohibitively expensive. So NASA is seeking a more cost-effective way to get people and equipment into orbit, and it has chosen the University of Florida to lead the way.
Last June, the space agency awarded a Florida-led consortium of seven universities a $15 million grant to develop the next generation of reusable launch vehicle, or RLV, which would replace the current space shuttles or their successors around 2025.
The Institute for Future Space Transport that will be based at Florida will focus on four "research pillars": propulsion technologies, airframe technologies, vehicle maintenance, and systems integration and design optimization. Florida's partners are Cornell, Georgia Tech, Alabama, Syracuse, North Carolina A&T and Prairie View A&M in Texas.
Getting away from the rocket technology that has propelled human space exploration from its inception would go a long way toward achieving NASA's ambitious goals for these third-generation, or Gen3, vehicles: a 100-fold reduction to about $100 per pound in launch costs, and a 10,000-fold increase in safety to one death in a million flights.
"We will not be able to continue to rely on the space shuttle for frequent low-orbital missions — the costs are just too prohibitive," says Wei Shyy, director of the new institute and chair of Florida's Department of Mechanical and Aerospace Engineering. "Instead, we have to develop technology that will eventually fly spacecraft more like aircraft, in terms of cost, safety and maintenance, and that's the focus of this institute."
Since the dawn of the space age, astronauts have escaped the relentless grip of Earth's gravity by perching themselves atop hundreds of thousands of gallons of extremely volatile fuel.
But this approach has numerous drawbacks. First, it's dangerous, as the Challenger explosion so horrifyingly illustrated. Second, it's expensive. The average space shuttle flight costs $500 million.
Third, it's inefficient. About 84 percent of the shuttle's 4.5- million-pound payload is fuel. The average turn-around time for a space shuttle is six months.
But achieving orbit with a plane-like RLV is not just a matter of pointing an F-15 fighter skyward, says Shyy. The technological hurdles to reaching escape velocity of more than 3,000 miles per hour (Mach 5) are many, including identifying new fuels, engine shapes and airframes.
Much of the emphasis for the new vehicle will focus on moving away from a reliance on conventional rocket engines. The space shuttle lifts off on two very large solid rocket boosters and then ignites three liquid rocket engines that convert a chemical reaction between liquid hydrogen and liquid oxygen into the kinetic energy needed to put the space shuttle in orbit. A viable alternative, Shyy says, is "air-breathing" engines like those used on jets, coupled with a smaller rocket.
Institute executive director Corin Segal, a Florida mechnical and aerospace engineering professor, will spearhead the development of air-breathing propulsion technologies for the new vehicle. Segal anticipates such vehicles would take off from runways like airplanes and make most of the journey into space using hypersonic engines, switching to small rockets for the last boost into orbit.
"Fuel is a big cost factor," says Segal. "To take a vehicle that heavy and put it 300 miles above the Earth requires immense amounts of energy. When you do this with chemical rockets, like we do today, you have to carry with you both the propellant and the oxidant.
"If we are able to do the air-breathing propulsion, this would reduce substantially the weight of the ship," he continues, "because, with air-breathing engines, the oxidant is coming out of the air rather than being carried as a fuel like on the space shuttle."
One of the greatest challenges, Shyy says, is designing an engine technology that gives the fuel time to ignite before it is blown "out the door" by the sheer speed of the vehicle.
"Jet fuels burn very fast, but not as fast as we envision these vehicles flying," Shyy says. "For a typical aircraft engine, an extremely efficient 99 percent of the fuel burns, but in tests of an engine like we are talking about, we've been lucky to get positive efficiency at all. The major reason is that the flame cannot burn nearly as fast as the air flows, so before you can ignite it, the mixture is out the door."
Shyy says researchers are concentrating their efforts on engine designs that redirect airflow through the engine so the flame has more time to ignite.
"But at such a high speed," he says, "redirecting air flow creates a shock that results in a lot of aerodynamic loss, and a lot more drag, so then you need even more fuel."
Shyy predicts the Gen3 vehicle will represent a major milestone in the space age, noting that it will involve technologies vastly different from those that have dominated space flight in the past.
"The Saturn V was a tremendous accomplishment, but it used brute force," he says. "The space shuttle is a very fine piece of machinery, but the technology, the engineering tools used to design both, were similar."
The Gen3 vehicles will have to employ 21st-century technology to achieve NASA's goals, Shyy says, noting that the computing power aboard Apollo 11 was less than on most hand-held calculators today.
Florida researchers expect to employ dramatic advances in computers, materials and sensors to achieve both significant cost savings and safety assurances in maintaining the vehicle.
Today, engineers conduct a mostly manual inspection of the space shuttles to ensure there are no cracks or other damage that could lead to catastrophic failure. This is a time- and labor-intensive process that contributes significantly to the turn-around time and cost of each mission.
But Shyy says designers could blanket a Gen3 vehicle with new miniaturized sensors without adding hardly any weight.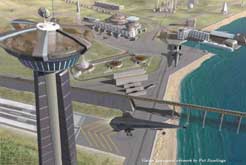 NASA'S AMBITIOUS GOALS FOR THESE THIRD-GENERATION, OR GEN3, VEHICLES: A 100-FOLD REDUCTION TO ABOUT $100 PER POUND IN LAUNCH COSTS, AND A 10,000-FOLD INCREASE IN SAFETY TO ONE DEATH IN A MILLION FLIGHTS.

"WE HAVE TO DEVELOP TECHNOLOGY THAT WILL EVENTUALLY FLY SPACECRAFT MORE LIKE AIRCRAFT, IN TERMS OF COST, SAFETY AND MAINTENANCE, AND THAT'S THE FOCUS OF THIS INSTITUTE" — WEI SHYY
Those sensors could feed information back to computers millions of times more powerful than those available in the past so that flight managers would have a much more comprehensive picture of the vehicle's status at a fraction of the cost.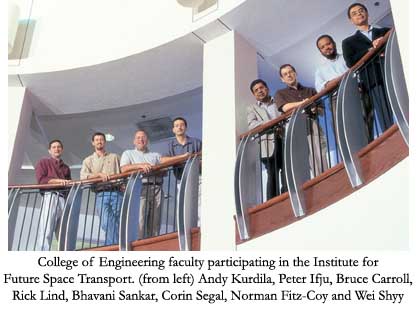 "The sensors used to be so big that you couldn't include very many on the vehicle. Now you can really do things at such small scale that you can cover the vehicle with them," Shyy says. "And, you have much faster computers now that you can rely on to give you the data to do diagnostics. These are two key pieces of the puzzle, and these are things that we do well."
Shyy believes Florida's technical strengths, its university partnerships and strong backing from industry impressed NASA managers reviewing the more than 100 proposals submitted for the agency's University Research, Engineering and Technology Institutes (URETI) program.
"The comments I got were that our proposal was very well structured," Shyy says. "Our diverse team was very well integrated. It was not a case of Florida do this, Cornell do that, then we just staple them all together."
Munir M. Sindir, director of advanced analysis processes for Boeing's Rocketdyne Propulsion and Power Division, cited as strengths of the institute the team's knowledge, experience and expertise as well as a willingness to work with industry as partners and a strong focus on teaching and mentoring.
"We expect them to show creativity and 'out-of-the-box' thinking in new technology development and deployment: to focus on 'revolutionary' versus 'evolutionary' development," Sindir says. "And we hope they will use the center as a training ground for future aerospace and mechanical engineers."
"Teaching students is our main responsibility here," Segal says, adding that the grant will support 19 doctoral students at Florida alone, with more at the other institutions. "This grant ensures that our students are well supported and their work is well defined for a longer period of time."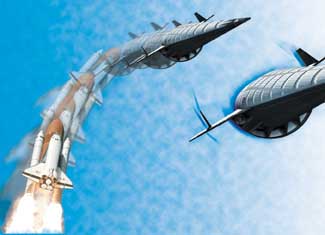 Peggy Evanich, who came to Florida to enhance the university's relationships with NASA after working for the space agency for 27 years, says getting the URETI grant has dramatically enhanced Florida's reputation in the aerospace community.
"People who never thought of Florida as an overall leader in aerospace engineering are definitely taking notice now," says Evanich, adding that the institute can only help strengthen the university's relationship to NASA, specifically the Kennedy Space Center. "After all, Gen3 RLVs will eventually be launched from KSC. Anytime we can bring more NASA work to the state, people will automatically think of Kennedy."
"This is a chance to really put our university on the leadership position in this field," says Shyy. "We look forward to making Florida an internationally recognized leader in this important area in engineering as well as human exploration."
Wei Shyy
Professor and Chair, Department of Mechanical and Aerospace Engineering
(352) 392-0961
The conceptual illustrations used in this article were developed through the Space System Design Lab at Georgia Tech, a partner with the University of Florida in the Institute for Future Space Transport.
---