Audiologists Warn Of Motorcycle Noise Dangers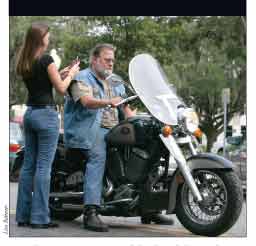 Andrea Pierce, a University of Florida audiology graduate student, uses a noise dosimeter to measure the loudness of Dano Roller's motorcycle.
When Steppenwolf sang of heavy metal thunder in "Born to be Wild," their classic ode to the freewheeling biker lifestyle, they equated rocking out with the ear-pounding experience of riding a motorcycle. The notion that loud music can damage hearing is common knowledge, but the noise produced by motorcycles poses similar risk to riders, University of Florida experts caution.
In a pilot test of 33 motorcycles, UF audiologists at the College of Public Health and Health Professions have found nearly half produced noise above 100 decibels when throttled up - equivalent in intensity to a loud rock concert or a chainsaw. The ongoing UF effort is the first scientific study aimed at producing quantifiable data on noise levels for motorcyclists.
The National Institute for Occupational Safety and Health cautions that exposure to noise at 100 decibels is safe for only 15 minutes. Permanent hearing loss can occur with prolonged exposure to any noise measuring 85 decibels or higher.
"Almost all of the motorcycles we tested reached action-level noise, which in the workplace would require ear protection," said Joy Colle, one of the study researchers. "The loudest bike we tested measured 119 decibels with the engine revved, and the recommended exposure time at that level is only 11 seconds.
"Potentially, the vast majority of motorcyclists could be exposed to dangerous levels of noise," Colle said.
More than 5 million Americans are registered motorcycle owners, according to the U.S. Department of Transportation. Of the 28 million Americans who have some degree of hearing loss, about one-third can attribute their hearing loss to excessive noise exposure.
In addition to sound levels, the UF researchers are noting the make, model, engine size, year manufactured and any modifications to the engine and exhaust systems of each motorcycle. They will then develop an online database to provide motorcyclists with bike-specific data on noise exposure so riders can make informed decisions about hearing protection.
In the UF study, noise levels were tested at riders' ear levels from stationary motorcycles when idle and throttled up. Further research should include measurement of noise levels when the motorcycles are driven at cruising speeds to account for the effects of wind noise, Colle said.
by Jill Pease