Despite progress in other fields, women represent less than 10 percent of the engineering workforce, and a new book aimed at increasing their numbers pays homage to four University of Florida faculty members.
"Changing Our World: True Stories of Women Engineers" includes profiles of UF Provost Janie Fouke and faculty members Wendy Graham, Dorota Haman and Carol Lehtola of UF's Institute of Food and Agricultural Sciences.
The book was published by the American Society of Civil Engineers as part of the Extraordinary Woman Engineers Project, an effort by more than 50 organizations to encourage young women to pursue engineering careers.
The four UF faculty members were chosen for inclusion by a committee that reviewed hundreds of nominations from various engineering societies, said Graham, chair of UF's agricultural and biological engineering department.
Fouke, a biomedical engineer who was recognized for her work on asthma, said the nation needs all the highly trained people it can possibly attract.
"It's not strictly a gender-based issue, but since women make up half of the youth population, it's important to reach out to them," she said.
Graham, profiled for research on reducing nutrient pollution in groundwater, said young women should consider engineering because it offers many career options.
"I think it's incredibly important to show young women what they can contribute to the world, and this book does a great job of showing what's possible through engineering," she said.
Lehtola, an agricultural safety expert who was recognized for her efforts to reduce tractor accidents, said when she was in high school there were few options for girls.
"I did really well in math and science, but I couldn't see myself becoming a high school teacher, which was the traditional science opportunity for women at the time," Lehtola said. "There weren't a lot of role models for me, so I'm glad to have a chance to offer inspiration to young women now."
Haman said it's important for universities to hire women engineers. An irrigation expert, she was profiled for helping farmers around the world.
"Female students need to see women engineers in leadership roles, and I think it benefits male students as well," she said.
The following are excerpts from "Changing Our World: True Stories of Women Engineers" by Sybil E. Hatch. For more information on the project, visit:
http://www.engineeringwomen.org/stories.html.
Taking The Wheeze Out Of Freeze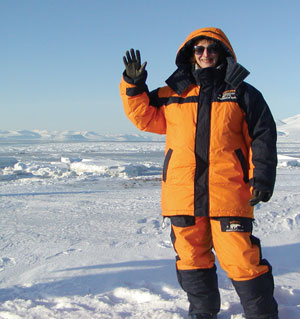 UF Provost Janie Fouke at the North Pole.
Many people find that, along with scarves and mittens, freezing weather brings out cold-weather asthma attacks.
Asthma experts used to think that cold air triggered asthma attacks in one of two ways: a cold breath caused fluid to evaporate from the lungs, leaving behind a saltier solution that irritated the lungs; or cold air caused airway blood vessels to shrink, which brought on attacks.
Biomedical engineer Janie M. Fouke's groundbreaking studies proved both theories wrong and left the asthma community breathless with amazement. Janie found that when you inhale, a rush of blood pours into the lungs to warm them up. The rush causes the blood vessels to heat up and swell, which in turn prompts an asthma attack.
Janie's findings changed the course of drug treatment for asthma patients and resulted in a new wave of research on blood vessels and their effect on asthma.
Healthy Drinking Water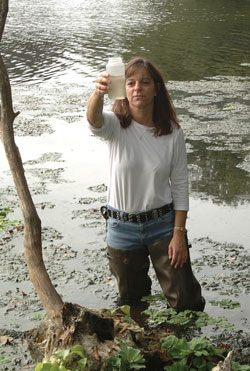 Wendy Graham tests water along the Suwannee River.
When civil engineer Wendy Dimbero Graham studied the impact of citrus crops on Florida's groundwater — the water supply for many people — she discovered there were unhealthy levels of nitrates getting into drinking water. The chemicals farmers use in fertilizer and livestock feed can leach into the earth, filter down through soil and rock layers, and mix with the groundwater below. This makes groundwater unhealthy to drink.
Wendy worked with farmers, scientists and state regulators as she researched and tested soil and plant specimens over a long period of time. Her constant monitoring and analysis helped farmers reduce the amount of nitrates they were using. Eventually the drinking water returned to its original high quality.
"Many people are often surprised by how willing farmers are to protect the environment," says Wendy. "They realize how sensitive the environment is and how important a healthy environment is to agriculture."
Roll Bars For All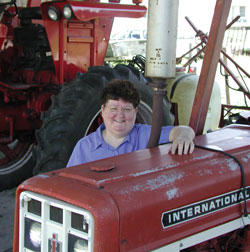 Carol Lehtola helps make tractors safer.
The number-one cause of farm fatalities is overturned tractors. While working at the University of Iowa, agricultural engineer and safety expert Carol J. Lehtola launched the TRAC-SAFE (Tractor Risk Abatement and Control) project to install rollover protective structures.
"Many farmers keep tractors for as long as 50 years, and updating them with new equipment was a challenge, to say the least," commented Carol. The program was so successful that TRAC-SAFE was adopted nationally in the mid-1990s.
Carol Lehtola is also childproofing farms and helping family farmers follow safety measures when their kids are doing chores. Her guidelines match tasks appropriate to a child's physical and mental development so that work can be an enjoyable learning experience with minimal danger.
Irrigation 'Round The Globe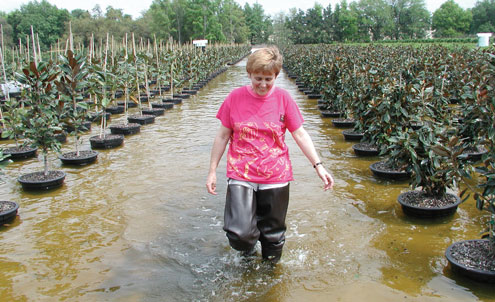 Dorota Haman is comparing the efficiency of ebb-and-flow systems like the one shown here with typical overhead and microirrigation systems.
Agricultural engineer Dorota Zofia Haman, an expert in irrigation water management, has traveled throughout the world helping farmers learn more about growing healthy food by using various methods of irrigation.
Many non-government organizations distribute simple drip irrigation kits that contain plastic pipe that connects to a water source; farmers operate them by a foot treadle pump to circulate water. While these kits are simple, drip irrigation can be very complex. That's where Dorota excels in helping farmers operate their systems more efficiently.
In Zimbabwe, Dorota joined a team from the United Nations Food and Agricultural Organization to teach small farmers how to make the most of their water supplies.
"By happy accident, I fell into my career while reviewing some interesting data during a math project. Now I find tremendous reward in helping people worldwide grow more and better food while putting less stress on the environment."