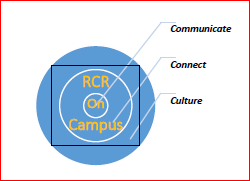 Monday, October 25, 2021
A link to the presentation Managing Allegations of Scientific Misconduct by Cassandra C. Farley, Director, UF Research Integrity, Security & Compliance (RISC) will be posted here soon.
UF Research (Michelle Leonard, Cassandra Farley), CTSI (Bob Kolb, Yulia Strekalova), HSCL (Terry Selfe), and CUR (Anne Donnelly) received a 1 year grant from the Department of Health & Human Services, Office of Research Integrity to develop additional programming, and enhance the existing RCR Summer Seminar Series. These new programs will include a podcast series and a video vignette on research integrity. A call went out to participate in the grant initiatives as Research Ambassadors, who will be announced later this week. If you missed the call for the Research Ambassador program, there are volunteer opportunities available! Please contact mleonard at research.ufl.edu
The RCR Summer Seminar Series 2021 wrapped up with the Leadership Roundtable in August. Feel free to check out the content from the series at: https://research.ufl.edu/rcr/rcr-training/2021-summer-seminar-series/. The video of the Leadership Roundtable will be posted soon!
Suggestions for new "Case of the Month" scenarios are always welcome. Please contact Wayne McCormack (mccormac at ufl.edu).
UF Research Integrity created a new poster series on RI issues. Please email RIO to get free posters for your lab or department. View the posters at https://research.ufl.edu/rcr/resources/.
---
The goal of the "RCR on Campus" group is to bring campus stakeholders involved in teaching RCR, research ethics, rigor & reproducibility together under an Office of Research umbrella. Understanding that each RCR course or program is unique and caters to a specific set of stakeholders, we are not seeking consolidation or centralization of any course/program – rather, the goal of these meetings are for the stakeholders to get to know each other, discuss their classes, programs, share information, and collaborate in creating novel and innovative approaches to fostering a culture of RCR on Campus, including the development of this website.
Contacts:
To be added to the RCR on Campus group, please contact H. Robert Kolb, RN, MS, CCRC or Michelle Leonard, MA, MLS.
For questions related to NIH training requirements, please contact Wayne T. McCormack, PhD (mccormac at ufl.edu).