Next Meeting: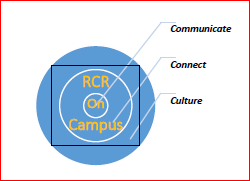 The goal of the "RCR on Campus" group is to bring campus stakeholders involved in teaching RCR, research ethics, rigor & reproducibility together under an Office of Research umbrella. Understanding that each RCR course or program is unique and caters to a specific set of stakeholders, we are not seeking consolidation or centralization of any course/program – rather, the goal of these meetings are for the stakeholders to get to know each other, discuss their classes, programs, share information, and collaborate in creating novel and innovative approaches to fostering a culture of RCR on Campus, including the development of this website.
Contacts:
To be added to the RCR on Campus group, please contact H. Robert Kolb, RN, MS, CCRC (kolbhr@ufl.edu) or Michelle Leonard, MA, MLS (leonard@uflib.ufl.edu).
For questions related to NIH training requirements, please contact Wayne T. McCormack, PhD (mccormac@ufl.edu).