Welcome to the
R

igorous

R

eproducible

R

esponsible

R

esearch

I

ntegrity at UF (R4I@UF) website!  Please visit each month for a new case that may be used as a framework for a brief conversation about best research practices in your lab meeting, research conference, journal club, or any research meeting.
---
Rigor & Reproducibility Seminar Series
This seminar series is jointly hosted by the UF Movement Disorders and Neurorestoration Program and the UF Health Science Center Libraries. Hear from leading national and international experts on rigor and reproducibility topics.  Seminars will generally take place at 9:00 am ET on the second Friday every month.  To register, please use the links in the seminar schedule, after which you will receive information about joining the zoom meeting and participating in Q&A discussions.  This program and seminar series is funded by the National Institute of Neurological Disorders and Stroke (NINDS) through T32 NS082128, awarded to PIs Dawn Bowers (College of PHHP) and David E. Vaillancourt (College of HHP).
June 11
9:00 am
"Open and FAIR Neuroscience" presented by Dr. Maryann Martone, Professor Emeritus, Neurosciences, University of California San Diego
June 18
9:00 am
"Centering Contextual Factors to Advance the Science of Aging/Dementia" presented by Dr. Jennifer Manly, Professor of Neuropsychology in Neurology, Columbia University
September 24
9:00 am
"Building a culture of computational reproducibility" by Dr. Russ Poldrak, Professor of Psychology, Stanford University, Director, Stanford Center for Reproducible Neuroscience
---
See the RESOURCES link for a new poster series on research integrity issues!
---
R4I Case of the Month – June-July 2021 – Biased Peer Review or Flawed Methodology?
This month's case scenario is one of a series that follows the story of Dr. Thompson's laboratory, and explores the issues that arise from being in a small lab through the eyes of a new principal investigator (PI), a postdoctoral fellow, and a graduate student.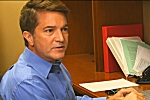 Dr. Jeff Thompson is driven to secure his reputation as a successful researcher after recently leaving the lab of respected scientist. His relationship with his former PI has helped him immensely in the past, but he is eager to escape from under his shadow.
Please watch this brief video (2:52) to set up the research dilemma. After watching the video, consider these questions.
1. What are the PI's options in this situation?
2. If you suspected the motivations behind a review, how would you decide which edits / requests are valid and which are superfluous?
3. What would motivate a peer reviewer to purposefully slow down someone's publication?
4. What can be done to prevent this from happening?
For more information about peer review, please see the Peer Review resources web page. 
---
This website is a service of UF Research and the "RCR on Campus" working group. We believe that research integrity is not achieved by simply taking an RCR course and "checking the box" that training is done. Our vision is to maintain a research culture in our everyday lives as UF researchers and research trainees in which we naturally follow best practices to ensure that the research we do is responsible, rigorous, and reproducible.
To submit a "Case of the Month" for the R4I@UF website, please contact Wayne T. McCormack, PhD (mccormac at ufl.edu).
---