Historic Preservation: Value Added

left to right: Surfcomber Hotel, South Beach, Miami Beach; Osceola County Courthouse, Kissimmee; Fort Pierce
Historic preservation. Stately Victorian houses. Gazebos on the downtown square. Few would argue the aesthetic benefits of preserving Florida's heritage, but is it worth it, economically?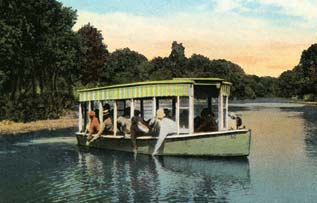 Silver Springs
Yes, to the tune of $4.2 billion annually, says a team of researchers from the Center for Governmental Responsibility at the University of Florida and the Center for Urban Policy Research at Rutgers University that recently completed the state's first comprehensive assessment of the economic impact of historic preservation.
"The aesthetic and quality-of-life benefits of preservation are generally acknowledged," the researchers from UF's Levin College of Law wrote in Economic Impacts of Historic Preservation in Florida. "However, doubts are often expressed about the quantifiable economic contribution of preservation."
After more than a year of analyzing data and getting input from government and community leaders throughout the state, the researchers say those doubts should be erased.
"A conservative estimate of the economic impacts of historic preservation in Florida is $4.2 billion annually," say study co-authors Timothy McLendon and JoAnn Klein. "Historic preservation produces a wonderful return for the public money invested and is one of the most efficient ways public funds can be invested. Historic preservation works."
The researchers focused on several key areas relative to historic preservation — heritage tourism, historic rehabilitation, assistance programs like the Florida Main Street Program, and property values.
"This report provides striking evidence that Florida's investment in the preservation and protection of historic places and the legacy of the cultures that created them is paying huge dividends," says Florida Secretary of State Jim Smith, whose office commissioned the $75,000 study.
Heritage Tourism
For tens of thousands of years, human habitation in Florida had been overlaid — culture upon culture — from prehistoric times, through the Spanish and British colonial periods and into statehood. But the wave of new residents to the state during the 1940s and '50s threatened to simply brush away all that history in a relentless drive to build more houses, highways and strip malls.
"The explosive growth in population and economic development left much of the physical evidence of our historic heritage in dust and rubble," according to the 1973 Florida Comprehensive Historic Preservation Plan.
This wholesale destruction galvanized public support for historic preservation, and in 1959 St. Augustine became the first state-sponsored historic district. With the passage of the National Historic Preservation Act of 1966 and the Florida Archives and History Act of 1967, historic preservation had arrived.
Heritage tourism is by far the largest component of the economic impact of historic preservation, but McLendon says the various elements complement each other to the benefit of all.
"Heritage tourism wouldn't be such a big component if the historic homes and districts didn't exist in the first place," McLendon says. "There would be nothing for heritage tourists to see." In a March 2002 survey by Visit Florida, the state's official tourist promotion agency, 61 percent of the respondents said they participated in some "history-based activity" while vacationing in Florida. With more than 71 million visitors in 2000, the researchers were able to estimate $3.72 billion in expenditures generated by heritage tourism.
The researchers cite St. Augustine as a perfect example of the impact of heritage tourism. County economic development officials estimate tourism brought in $490 million in 2000.
"The whole city is based on tourism, and the tourism is based on historic preservation," says David D. Birchim, senior planner for the City of St. Augustine.
Using accepted industry formulas, the researchers estimate that the $3.72 billion in heritage tourism translates into 107,607 Florida jobs, including 51,794 in the retail sector and 30,068 in the services sector.
Another component the researchers studied was historical museums, parks and sites. Of the state's 356 museums, 183 are considered historic. These historic museums welcomed 9.7 million visitors in 2001.
Of Florida's 156 state parks, 46 include sites on the National Register of Historic Places. More than 46 percent of the 18.1 million visitors to Florida state parks in 2001 traveled to a park that is historic or includes some historic or archaeological site within its borders.
Historic Rehabilitation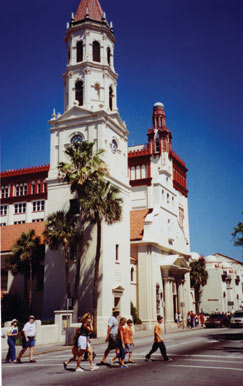 The Florida Division of Historical Resources currently recognizes more than 135,000 historical structures and archaeological sites in the state, with more being added every day.
But there is no central gathering point for information about current building rehabilitation activity, so the researchers cross-referenced local building permit activity with projects awarded certificates of appropriateness by local historic commissions to come up with an estimate of the extent of historic rehabilitation.
The researchers defined rehabilitation as all construction work that the Census identifies as "alterations." "Historic" was defined as property that is designated as a local or national landmark, or located in a national or local historic register district.
"We did not have the capability to consider properties that might be eligible for historic designation," McLendon says. "Thus we only consider properties actually designated as landmarks or included within historic districts — making our rehabilitation data very conservative."
The researchers determined that historic properties accounted for about 6.5 percent, or $350 million, of the $5.3 billion rehabilitation construction business in Florida in 2000.

"This rehabilitation may be as simple as restoring a decayed older house in one of Florida's many residential historic districts, or as extensive as the adaptive reuse projects that have transformed old industrial buildings in Tampa's Ybor City to make a vibrant and exciting commercial and entertainment district," the report says.
State officials estimate that 60 to 70 percent of the cost of the typical historic rehabilitation project in Florida is expended on labor, and that usually benefits local laborers, the report says.
The researchers employed another innovative approach to determine whether buildings in historic districts held or appreciated in value compared to comparable buildings outside the district.
Working with Geographic Information Systems researchers from the College of Design, Construction and Planning's GeoPlan Center, they assessed values for some 28,000 primarily single-family residential properties representing 18 historic districts and 25 comparison neighborhoods in eight Florida cities.
"In at least 15 of the 18 cases studied, property in the historic district appreciated greater than in the non-historic comparison neighborhoods," the researchers report. "No instance was found where historic designation depressed property values."
Main Street, Fla.
From Fort Walton Beach to Key West, Florida cities are taking back their downtowns with the help of the Florida Main Street Program, reversing the decline that began in the 1960s when people and their pocketbooks headed for the suburbs and the malls.
"In many small communities, the main street is in a serious state of decline," according to the Florida Main Street Program web page. "Effective solutions to the problems of deteriorating building stock, loss of business, and the waning economic strength of downtown are crucial to the survival of the city itself."
Historic preservation and economic development proponents argue that a revitalized downtown reflects a positive image of a community, creates job opportunities, attracts new industry and strengthens service and retail job markets, stabilizes and improves the area's tax base and protects the investment already made in downtown infrastructure, and preserves historic resources.
Since its inception in 1985, the Main Street Program has distributed a total of $4 million in grants to communities that have leveraged it into a total of $486.5 million in public/private investment.
The UF researchers found that Florida's Main Street Program represented a net investment of $64 million in 2001, generating more than 3,200 jobs, primarily in the retail sector.
More than 1,400 historic properties in all 67 Florida counties have been restored or rehabilitated since 1985 through the Historical Resources Grants-In-Aid Program of the Bureau of Historic Preservation. This program has awarded more than $212 million in grants to 2,751 projects which has been matched by $360 million in local funds.
Pensacola offers a dramatic example of the impact these grants can have on a community. Pensacola dates back more than 450 years and has one of the oldest and most active historic preservation programs in the state. Much of the preservation effort in the downtown area has focused on the Historic Pensacola Village, composed of 20 properties constructed between 1800 and 1900. In 2000-2001, three Historic Pensacola Village buildings received a $250,000 grant from the state for restoration and continued museum use. The grant applicants estimated that, once restored, these buildings would host more than 500,000 visitors annually.
The researchers say policy makers, like the governor and legislature, need the kind of "hard" economic numbers on preservation that reports like this generate to make informed decisions about how to support historic preservation programs.
"There are many demands on the public purse, and preservation is in competition for state support with other priorities, like rehabilitating highways and providing affordable housing," the report says. "Preservationists often do not have hard numbers on the economic benefits of their projects, unlike the proponents of competing investments. This is unfortnate, since historic preservation generates extensive economic benefits, actually surpassing those yielded by such alternative investments as infrastructure and new housing construction."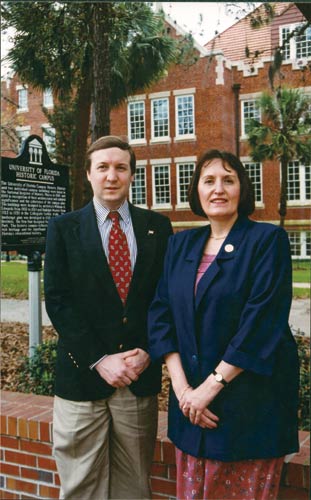 Timothy McLendon
Staff Attorney, Center for Governmental Responsibility
(352) 392-2237
mclendon@law.ufl.edu
JoAnn Klein
Director of Development and Communications,
Center for Governmental Responsibility
(352) 392-2237
klein@law.ufl.edu